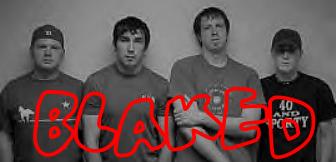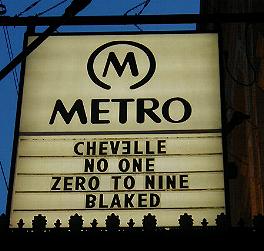 Blaked is a band that I first discovered at Riley's Rockhouse in Aurora, Illinois. They were amazing. They blew me away. I was in awe. It was a wonderful moment in my life. They are based in DeKalb, Illinois, although the drummer is not from there. I don't know how I would describe their music if I tried to generalize it into a category, because I don't think it's possible. I'll let them do that in their own words.
UPDATE: Blaked has now become a three piece, due to their split with guitarist Steve-o. So there will be some crazy updating going on.


¤ Band Line Up ¤
Rob ¤ Vocals / Guitar
Aaron ¤ Bass / Backing Vocals
Jeremy ¤ Percussion


¤ ¤ Old Interview With The Band ¤ ¤
¤02.03¤ Check back for a new interview, coming soon!



¤ ¤ Show Dates¤¤
| | | | | | | |
| --- | --- | --- | --- | --- | --- | --- |
| Date | Venue | Location | Time | Cost | Age | Other Bands |
| 02.15.04 | Otto's | DeKalb, IL | 7 PM | $6 | 18+ | Giant Step & EXO |
| 02.18.04 | Beat Kitchen | Chicago, IL | 9 PM | $5 | 21+ | Bear Claw & Terminus Victor |
| 04.10.04 | Otto's | DeKalb, IL | 9 PM | $10 | 21+ | Local H |

¤ ¤ Wanna Hear Them? ¤ ¤
¤ ¤ Official BlaKed Website ¤ ¤