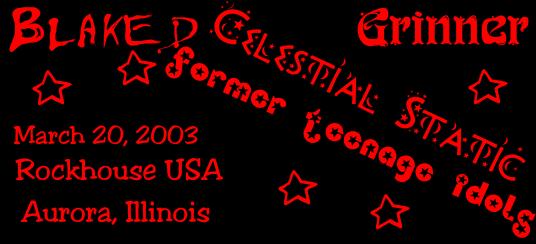 March 20, 2003 ¤ Rockhouse USA ¤ Aurora ¤
Show Line-Up ¤ Grinner, Former Teenage Idols, Celestial Static, & Blaked
Arrived to the show a little over an hour early. Got to chitchat with many people. Mainly Blaked and Former Teenage Idols. Rob spread word on this site. It rocked.
At about 7 PM, Grinner took stage. Based out of Chicago, IL - They almost sound like They Might Be Giants meet Slipknot. Their set was amazing. Up to last night I hadn't heard a word of this band, and I'm now wondering how that is. They played a 6 or 7 song set, and it was amazing, and FULL of energy. There were a few times I thought the guitarist was going to rock so hard that he fell off the stage. To no avail, it didn't happen. The vocals coming from the bassist and the drummer were extremely strong, despite all the technical sound difficulties Rileys was having that night. Vocals were hard to hear, but these guys got their voices heard.
Next band in the line-up was Former Teenage Idols. I had heard nothing but good things about these guys, and I even got to talk to "the nicest guy in the music scene" who played guitar in the band. These guys are INTENSE. The last song they played for their set was PROBABLY the most energy I have EVER seen on one stage in my life. And the guitarist walked off with 3 strings hanging from his guitar. Told ya, Intense. Their music has kind of an indie rock sound to it. They played a great set, and they are the next band I'm pursuing to add to the "Rock or Not Hall Of Fame" AKA The Noise Page.
Following the Former Teenage Idols was Celestial Static. I've seen them many times, and their performance never ceases to amaze me. They put on a great show, which included an 80s cover, which is definitely a hit at any bar you play it at. They played a few of their newer songs which are impressingly enough a GREAT follow up to the older stuff I'd been accustomed to, the songs from the Rumors Of Snow EP. Vocals done by Guitarist and Drummer (both female) is definitely a sound not heard at Rileys Often.
Lastly, Headlining this show, was Blaked, who I would like to thank again for putting together such an amazing line up of bands. They started off the set with old favorite, Nosebleed, which anyone who knows of Blaked, has probably heard, and possibly gotten stuck in their head from time to time. They went from that to more of their newer stuff, such as us/them, Blisters, and Rosestorm, which were definitely melodic, in a dischordic, chaotic kind of way. None the less, the intensity was definitely emanating from the stage. They rocked the hell out of Rileys, once again, even with Steve-o being reaaaaaallllly sick, earning him the Ironman award for the evening. There was also a tale of after school specials, huge rips in the asses of pants, a song dedicated to me (Awww thanks Rob), along with some onstage promotion of this very site (Thanks once again)
Some loonies threw a HUGE size 10 thong up on the stage, which gave Rob a laugh as it landed by his feet, and it wound up hanging from the mikestand for the rest of the show. I wonder who did that. Ok, I confess, it was me and my friend Shannon, to give the boys a smile. All in all the show was amazing, anyone who wasn't there definitely missed soem Rileys History. My picts will be back within the hour, and hopefully posted today as well.