on march 27th radio 104's 'five bands for five bucks' put on it's 5th show at the webster theatre. if the deal alone doesn't make you want to jump for joy, knowing that it was canadian packed that night will. the night's line up was - madcap, diffuser, gob, glassjaw and then headliners, simple plan. although i hadn't seen most of the other bands before i was mostly looking forward to seeing the guys of gob rock the stage again since i missed out on their whole set at 104 fest 2002. but i had to give love to fellow canadians simple plan too, because they rock the stage as well.

i don't recall if we arrived early or late for the show, but i hung out in the will call area for too long and ended up missing all of madcaps set unfortunately. i heard they did a really good job though considering it was one of their first shows after loosing a band member. so after a few mins of set up and take down diffuser took the stage. they were alright. i was kind of bummed about not being able to find my friends so i didn't pay all that much attention. during the next set up and break down i finally found my friends so we all pushed closer to the front.

up next was gob. i was so excited to see them. i only saw a few mins of their set at 104 fest 2002 because none of my friends liked them. we got semi close, not as close as i'd like but at least you can kind of see the band in the pics i took. they blew me away of course. it was so great finally seeing them in entirety.

glassjaw came on next. i wasn't a fan until afterwards when i got a chance to listen to some of their stuff. so i wasn't really in the mood to be in a crazy pitt for a band i didn't listen to so cait and i went off to the side to chill with envy and riann. we relaxed their for the rest of their set.

finally simple plan came on and they really rocked hardcore canadian style. i really wanted to crowd surf since i never have before. so during 'i'd do anything' i finally lost my crowd surfing virginity. it was so much fun that i went like 3 times after that. during their set they played about 3 rap cover songs. so of course that got my ghettoness flowing. so when they were signing autographs after the show i had them sign my ghetto booty. then i was hanging out with my friends before we were about to leave and my friend wu took a picture of my ass and later put it in the webster star magazine. so if anyone wants a copy of the april 2003 edition of the webster star email me and i'll hook you up.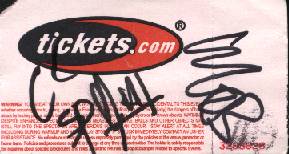 The back side of my autographed ticket, signed by members of Gob and Simple Plan.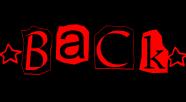 "i hear you calling calling for me out in the night but it's all bad and i know that.."