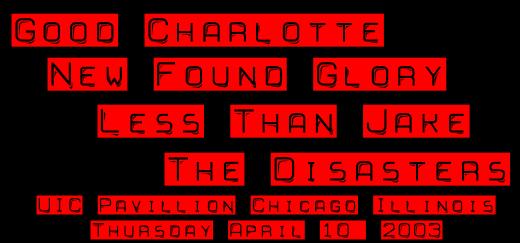 April 10, 2003 ¤ UIC Pavillion ¤ Chicago, Illinois ¤
Show Line-Up ¤ The Disasters ¤ Less Than Jake ¤ Good Charlotte ¤ New Found Glory
Went to the Good Charlotte, New Found Glory, and Less Than Jake show at the UIC Pavillion in Chicago on thursday. It was PACKED there were easily about 10, 000 people there. Got there obscenely early, about 2 or so, and just walking around we bumped into Joel from GC, so we each got our picture taken with him, and my friend got all nervous and excited and it was great.
Show started at about 7 or 7:30ish with The Disasters taking the stage. I had never heard of these guys, but they couldn't have picked a better opening act for this show. They really got the crowd going.
After the Disasters, Less Than Jake took the stage. I have seen these guys numerous times, and never failed to be impressed. They played a wide range of their music, including Automatic from Losers, Kings, and Things we Don't Understand. The sax player and the trombone player's energy was insane. They totally hyped the crowd, and it showed from all the shoving and pushing in the mosh pit. Amidst making the crowd go nuts, they shot T-Shirts out of a huge gun, and threw them into the crowd as well, which caused like these mini riots to happen. It was amazing. Excellent set.
After LTJ, Good Charlotte came up. They started off their set with "Lifestyles Of The Rich & Famous" and just watching thousands of people sing along in unison was amazing. Their set was great. They had everyone completely amped, as most of the crowd had GC as their reason for coming. Their set was very long, and the intensity level never dropped once, not even during a speech about suicide right before they played "Hold On" They ended their set with a bang, and that was that. Half the crowd left after that, which sucked, but whatever.
Finally, the headliners. New Found Glory. these guys I have also seen numerous times, and their show never loses my interest. They played stuff from just about every single CD they have out, including The Glory Of Love, from the From Your Screen To Your Stereo album. They went haywire with the audience participation, and unfortunately by that crowd everyone was worn out that the response was pretty weak.
All in All the show was fantastic, and it was definitely worht me requesting a day off work for. Pictures from the show to come soon, if they are decent. As I dont' have and dont know how to go about getting a photo pass, they were taken by my friend Shannon from the mosh pit, so they may not be the best ever, but if theyr'e worth it, they will definitely be posted.