after slacking for over a month i've finally decided to do a review for the march 11th show in the webster underground featuring last kyd picked and greyfield. i don't really remember every single thing that happened anymore but i do remember that originally the pennyroyals were supposed to play this date as well but something went wrong with ticket sales and it didn't end up happening that way.
i arrived at the webster with my friends and we met up with our new milford friends shortly after and they escorted us inside. it was supposed to be an 18 plus show but we all got in because we kick ass like that. i don't recall if anyone was playing when we got there but i do remember members of lkp were starting to unload and get ready to set up. we were all excited to see them and had fun hump fests with tony and pj. we tried to get difran as well but he's afraid of little girls and runs away. gian and jym were at the bar for a while but then they showed up for the good times that were to be had.
i had never seen greyfield live or in person before so i was so excited. whenever i'd see one i'd be like 'greyfield boy!' and run up to them. i spotted allan first. i think he was afraid the most. then i saw matt and chris. matt remembered me from online and gave me a hug which was cool and chris remembered this website so he rocks me. later on i met merch man jon and we we're fighting throughout the show. he smacked me so next time he's here he's gonna get it. at some point i met mike as well and it was awesome cuz i met all of them and was so excited to finally be seeing them.
lkp played a pretty good set but unfortunately it was cut short so i didn't get to hear many old favorites of mine. but they did impress me with some cool new material. the night was made all that much better by witnessing difran actually jump in the air and getting a picture of it. i only got 2 pics of lkp's set because i was running low on film. they kicked ass tho.
next up was greyfield. i don't think i can think of a word other than amazing to describe it. they sound so together and solid live. a lot of live bands sound horrible and you can't hear a word anyone is singing but not greyfield. they were awesome. since there wasn't a huge crowd or anything and their fanbase here isn't really big yet they took a liking to the 2 rows in the front that were singing along to every song. i even wipped out my friend sarai's lighter during 'alfred, fetch me my gun' cuz it was so beautiful. they dedicated pretty much every song to either envy, the front row, or last kyd picked. it was beyond cute. during their set a drunk jym from lkp found his way on stage and humped chris while he was singing. it was quite a humorous sight. during their set it hit me that one day, probably really soon they are gonna blow up and be fuckin huge. they are that damn good. it was such a great night. but unfortunately evil sound people cut their set short as well.
after they finished we bombarded the guys with requests for drum sticks, pics and various other items. they didn't use setlists though, so i didn't get anything until matt gave me his 'no hangers' sticker that he had on his lower region. it's pretty badass so i had them all sign it. then one of the miller brothers gave me a dunkin donuts bag and i had everyone sign that too. merch man jon was kind enough to give us some free cds which kicked ass cuz i'm poor. after they finished unloading we were bored and didn't want to watch the other bands so we hung out outside in the freezing cold.
outside we had a lot of fun with the guys. it was cute seeing them all in the freezing cold and playing in the snow. and it was pretty damn hot when they all posed for us and tried ripping off brother jon's clothes. we all hung out for a few hours, just humping, talking, and freezing our asses off. it was well worth it though. greyfield kicks so much ass and i'm definitely going to be seeing them the next time they come up here.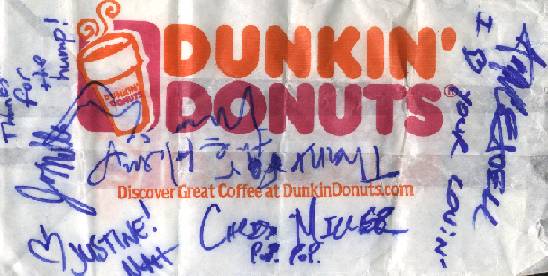 My lovely autographed bag.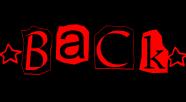 "spare the pain and forget the sorrow i'll be over you tomorrow.."