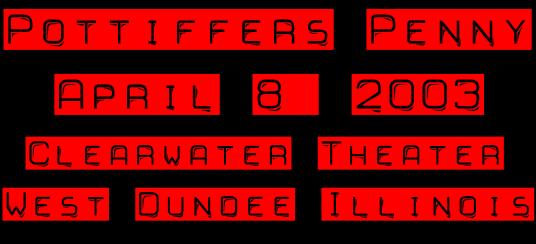 April 8, 2003 ¤ Clearwater Theater ¤ West Dundee, Illinois ¤
Show Line-Up ¤ Pottiffer's Penny ¤
Went to the Pottiffers Penny show on April 8 at the Clearwater theater. That place is very very nice. Minus the fact that it wqas a very small crowd, the show was amazing. No matter how many or how few people are in the audience, POttiffers Penny never ceases to rock hard. They played a great set, with Big Fat Worm (one of their best) near the end of the set. The sound was great. Only three people showed up for Pottiffers, and we attempted to show as much appreciation as we could, because they played a great set for next to no one.